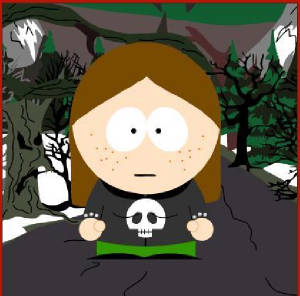 Kayla (Chinchilla) - Vocals
I was born on September 10,1989 in Cincinnati,OH. My parents never even liked each-other,they were just horney. After their seperation when I was 3, I never really saw my father much. My siblings and I for some reason have always been very close, I love them dearly. A few years ago, I was an outcast and a "nerd". Then i discovered that I should not be embarressed of myself for any reason, so I became more open with people. Unlike the common steriotype for "people like me" as being suicidal, depressed "goths".... I am a very hyper and almost hippy-like person. Of coarse, we are all human and are intitled to our emotions and are expected to express them.Optomism is what I am known for and it seems to be contagious. No matter how unbarable life may seem, I think that you should move on, rock out, and go crazy with intelectual idiocy. <-(that is an oxymoron).
So, changing the subject, I have had a lot of stage experience. Mostly I act in community theater and school band (i play flute). Now that I am doing what I love, I am even more comfortable on stage. I first got into metal when I was seven years old because my older sister listened to mid 90's metal. I idolized both my older brother and sister, so therefore, i loved it. I never really expressed my love for music til I was about 12 though.It has been a great experience working with everyone.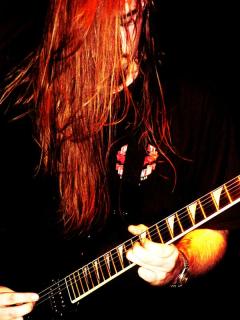 Draven87 - Guitar
Well...let's see...
I was born on September 24,1987 in the state of confusion. Ever since I can remember, I loved Metal music and I was intrigued by the Guitar. My parents always fought and always broke up, but then got back together a little bit later. I have lived in Cincinnati, Ohio- Jacksonville, Florida- Manchester, Ohio- East End, Ohio- Norwood, Ohio- Key West, Florida.... and a lot of other places that i cant remember. I never had permanent friends growing up because my parents moved almost every year.
When I decided to play the guitar, My dad, who i respect more than most people i meet, Bought me my very First guitar. It was a sunburst colored "Encore" Stratocaster with a warped neck.
I developed a hatred for authority even before I was born! My uncle James was murdered a year before I was born by William Lane, who only got 18 months in jail for it! After I took a good look at the "American Judicial System", I saw all of the flaws in it and injustice it held... So I became an Anarchist. I did everything outside of the law... Gang Fights, School Havoc, Backyard Wrestling, etc...
Through backyard wrestling, I met Vocalist Anarchy Jones. We saw that we both enjoyed the same music and wanted to start a band... I made a guitar out of 8 broken guitars and made it work. I called it "FrankensteinJH666" and i still have it!!!!
My family was too poor, so I couldn't take guitar lessons. I learned everything on my own, with some help from a very awesome man, Dennis Flammer. He showed me some songs and gave me strings when I needed them.
The band that got me into Metal was Black Sabbath. They remain one of my favorite bands still today!!!! When we got Deadly (drums), we started practicing in a room no bigger than a cheap hotel room is. It's hell and all the noise is cluttered together but I wouldn't trade the band for the world!!!!
My dad and my brother chipped in and bought me a Dime V Washburn guitar for christmas and i love it to death. Well now you know a little about me and i hope to be able to know a little about you one day.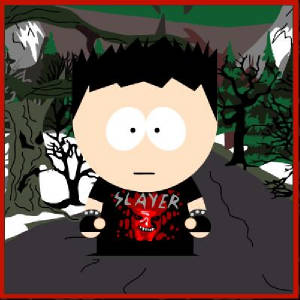 The Shredder - Guitar
Tony, also known as "The Shredder", was born September 15th, 1988. He is the rhythm guitarist for V.O.C. Constantly playing his guitar to up his skills. Tony has been playing the guitar for a year or so and is doing pretty good. V.O.C is bound to get somewhere with everyone working together. Now that "The Shredder " is there to add his skills to the band, things seem to be going better than ever. Tony has never performed on stage before. The talent show will be his first. He quotes, "Damn...I feel excited, and kind of scared at the same time...but...i'm going to pull through for the band." The band has meant a lot to Tony. Right now they are the only ones for him to trust in life.... I remember when I first got my guitar... A B.C. Rich Bronze Warlock... It means a lot to me... My Aunt and Uncle were the ones who got it for me... Almost a year after, I met up with V.O.C and was quickly initiated... Now we play all of the time and come up with new things...I have been in the band ever scince...My dad is the one in my household who is mostly encouraging me to play... He wants me to keep playing... My stepmother on the other hand is the one who doesnt want me to play... Instead she is trying to put playing the guitar on her listy of things to use against me... Life can be very stressful at many times... But thats why the band is there... The band is one place where i can go to express my feelings and have fun at the same time...Music and band are the only two things for me...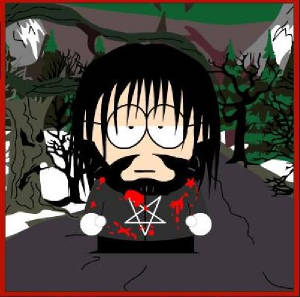 Deadly Fred - Drums
I was born August 7, 1988 in a state of idiocy. When I was small I fell on my head so that explains a lot of things. I got my first drum set when I turned 15. It was a late start but oh well. I had been interested in the drums since I was 13 due to my music class in school. I quickly caught on when I got my set. I had my first band practice with a band 1 week after I got my set. In this band was me, Pretty Kitty, Sunshine, Anthony J. and Angela F.
Band practice with them wasn't really band practice though. Not much work got done because PK and the others like to hang out in the Park more then to practice. This lead to the eventual break up of the band in December of that same year. Through the winter PK wanted me to come and play drums for another band she had gotten into. I remembered how she was in the first band so it took me a while to agree. I went to my first band Practice with VOC on valentines day of 2004. Even though the first practice was...unique (We almost got into a big fight)....I decided to stick with them for a while. Draven and me got into sync with each other really quick. Then when we got rid of PK and got Sunshine things became even better. The band practices got the best they have ever been. I was finally getting the kind of activity and sound I wanted in a band.
When all the differences in the band happened, I hated it probably the most, even though I didn't say much. When the band became as it is today (DF,AJ,D87,TS,SM) it was the best thing that ever happened to me. I love the way we all click and sound together. I get anxious when a practice ends becuase I can't wait for the next one. The band is my family. We fight like family, we hang like family. We are Family.
Former Members
Name: Zack
Played: Vocals
2005-2005
Small Bio: great in death metal, but could not be kept for lack of energy.
Name: Anarchy Jones
Played: Vocals
The Beginning-2005
Small Bio: The original vocalist for the band. great at what he did. left for personal reasons.
Name: Sunshine
Played: Keyboard,Bass,R.Guitar
2004-2004
Small Bio: originally came in on keyboard but switched to other instruments when needed, Left when replaced by The Shredder
Name: Pretty Kitty
Played: bass
2004-2004
Small bio: could play if she put her mind to it, but she never did. so she was kicked out and later replaced by sunshine
Name: Wayne
Played: R.Guitar
2003-2004
Small bio: played with the band for a little while. Left cause of indifferences in the band and a busy schedule. was replaced by sunshine.