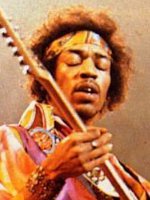 Jimi Hendrix was born Johnny Allen Hendrix at in the morning on November 27th, 1945 in Seatle, Washington. On September 11th, 1946, Jimi's official name changed to James Marshall Hendrix. Jimi's parents divorced in the early fifties, afterwards he was raised by his father, Al. Jimi was obsessed by the classic blues and jazz records in his father's collection. A little later Jimi was consumed by the pure magic of rock 'n' roll and R&B he heard on the local radio stations.

Al recognized his son's obsession and bought him a cheap guitar when he was 16. Jimi learned to play by playing along with the hot tunes of the day. He joined a band, the Rocking Kings, a year after he got his first guitar. Pretty soon he was playing with a variety of local bands. In May 1961 he quit Seattle to enlist in the army, only to be discharged after an injury the following year. Hendrix returned to music, becoming a side man for any band playing the chitlin circuit: the black touring network of bars, theaters and clubs. He was also a pick-up guitarist for big names like Little Richard, Jackie Wilson, The Isley Brothers, the Impressions, and Sam Cooke.

His musical ambitions were properly focused, however, when he reached New York. Jimi discovered Greenwich Village, where he was exposed to a vast explosion of new music: the influence of English beat groups, for instance John Coltrane and Ornette Coleman and the lyrical possibilities shown by Bob Dylan...

In 1966 Jimi formed a band called Jimmy James and the Blue Flames and elected to sing for the first time. The band had a regular spot in Greenwich Village. One night, while they were playing at Cafe Wha?, Chas Chandler checked out the show. He had been the bass player for the Animals but was trying to form a business. Chandler was overwhelmed by Jimi's performance. By the end of the set he invited Hendrix to London. This was the turning point in Jimi's career. After five years his break had finally come.

On September 24, 1966 Hendrix arrived in London. For the first time the spelling of his first name had been changed from 'Jimmy' to 'Jimi'. However, he hardly needed a name change to make an impression. His effect on London was electrifying as he absorbed the phycedelic movement in music. Chandler introduced him to England. Following an impromptu jam with Cream, Jimi Hendrix was a rising star in London. His first priority was getting a band. After hastily convened auditions he settled on a trio featuring Mitch Michell on drums and bass player Noel Redding.

'The Jimi Hendrix Experience' was formed on October 6, 1966. Three weeks later they recorded "Hey Joe". It was released December 13th, 1966 and by February it was number four on the singles charts. Jimi Hendrix was officially the hottest new name in Britain. By this time his creative impulse was running on overdrive. On January 11, 1967 the band cut "Purple Haze", written the previous month. An album was urgently required. Jimi was immersed in frantic bouts of writing and recording.

"Purple Haze" and the following "The Wind Cries Mary" were massive hits to say the least. They created maximum anticipation for the album "Are You Experienced?", released in May, 1967. It took quality opposition to stop the album from reaching number one: The Beatles' Sergeant Pepper took the top place while "Are You Experienced?" was number two in Britain through the summer of 1967.

The time had come to introduce America to the Jimi Hendrix Experience. In June the band played the Monterey Pop Festival. Hendrix produced one of his finest performances and closed with a trick perfected in London months before. Hendrix torched his guitar and smashed it to pieces. America had been conquered.

On December 1, 1967 the Jimi Hendrix Experience unveiled a new album: "Axis: Bold As Love". Jimi's sonic experiments had become married with rich vein lyrics, performed with the purest expressive quality of the blues.

The following February the band was back in America. The Album "Are you Experienced?" had sold well over a million copies in the U.S. and the newly released "Axis" was rising in the top 20. Hendrix now decided to base himself in New York and start working on his next album: "Electric Ladyland". This album included contributions from Jack Casady of Jefferson Airplane, Al Kooper, Buddy Miles from Traffic, Steve Winwood, Dave Mason, and Chris Wood.

The next single released was "All Along The Watchtower" on October 18, 1968. This was a remake of Bob Dylan's song but it was considered an epic interstellar performance which came as a prelude to "Electric Ladyland" released the following week.

The start of 1969 was spent in Europe. The band gave their last European concert on February 24 in London's Royal Albert Hall. Then came the band's final American tour which ended in Denver that June at a pop festival. After this the band broke up and Jimi went his own way. He then met up with his old friend Billy Cox and met a producer Alan Douglas who had also become a close friend. During 1969 he began to work on musical collective, "The Band Of Gypsys".

Jimi Hendrix's new Band, "The Band of Gypsys" first show was the August festival in upper New York state: Woodstock. This is where he made one of his most memorable shows which included the Star Spangled Banner performance. The band then worked on their first album "The Band of Gypsys"; which was released in April 1970.

After Jimi's European tour he started a new Band: "Cry of Love Band" with which he went on tour in August of 1970 beginning at the Isle of Wright Festival followed by a week of European dates during which the bass player Billy Cox fell ill. Hendrix brought Cox back to London where he could recover away from the pressures of touring. Jimi was staying in London with a girlfriend, Monika Dannemann. On the night of September 17, 1970, Jimi decided to take some sleeping pills. The idea was to sleep through the next day and leave for America after the weekend. Early the next morning Monika noticed that he had vomited during the night. He seemed to be breathing normally. She felt no reason to panic. Later she tried to wake him but he remained unconscious. This time she was alarmed. She called an ambulance, but it was to late. Jimi Hendrix had died of suffocation...

The night before Jimi had been working on a new song. It was the called "The Story of Life". The closing lines were:

The story of life is quicker than the wink of an eye.
The story of love is hello and goodbye,
Until we meet again...

After Jimi's death, a flood of albums - everything from old jams to live recordings to unreleased work has been released including an attempt on finishing the album that Jimi was working on when he died, 'First Rays of the New Rising Sun'. Everything from tapes, notes, interviews, and songlists were used to help complete the album. Jimi Hendrix is now by far, the artist most successful after death with well over 300 albums released since he passed.