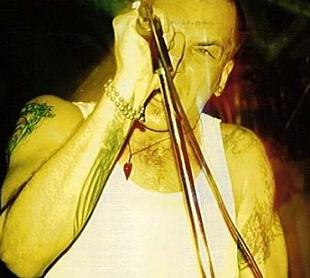 Strait was born in Manhasset, N.Y., but landed in Santa Barbara as a teen and immediately embraced the SoCal punk scene. Prior to his work with Snot, he had never sung in a band. "I always wanted to because it seemed like a lot of fun," he says. "But I wasn't into what most bands were playing." Starting from scratch, Strait points out, has been an advantage. "There's nobody to emulate. I won't say what I do is groundbreaking, but some of it is original; there are weird patterns in my vocals, because I got to make
up my style as I went along." All of the Snots have paid their dues in underground bands. Doling was in the West Coast speed metal outfit Kronix; Strait played bass in the punk band Lethal Dose. On the East Coast, Mayo was in Silence, a thrash metal ensemble. He later joined bassist John Fahnestock and drummer Jamie Miller in M.F. Pit Bulls. Doling formed Snot - of which he and Strait are the only original members - after Kronix was buried in the grunge avalanche.

Snot doesn't beat audiences over the head with a message. "All these L.A. bands have causes," sneered Strait, who serves as the band's lyricist. "If we have a message, it's to not take yourself too seriously. All we are is politically incorrect. We like eatin' steaks."

Nabbing a record contract was a dream come true for some of his mates, but Strait was under whelmed by the development. His response: "Yeah, now I can order cheese on my Whopper." Actually, while his bandmates were signing on the dotted line, he was finishing a month in County Jail, where he'd spent a year in the early '90s. "There's a layer of filth that hides in every small town," he says. "Santa Barbara's no exception."


(12/11/98, 7 p.m. PST) -- Lynn Strait, singer of Geffen hard rock act Snot, died this afternoon in a three-car crash near Santa Barbara, Calif., according to a statement released by Geffen Records. He was 30. Also killed in the accident was Strait's dog, Dobbs, who graced the cover of the band's 1997 Geffen debut album, Get Some and served as the group's mascot.

The band, which was based in Santa Barbara, was signed to Geffen Records in 1996, a little more than a year after it was formed. Get Some was released in May 1997. More recently, the band's song "Absent" appeared on the soundtrack to Dee Snider's StrangeLand soundtrack.

Snot made headlines last summer after Strait was arrested at an OzzFest show in Mansfield, Mass. for indecent exposure. According to reports, Strait appeared onstage naked on a dare and engaged in oral sex with a dancer that was part of Limp Bizkit's stage show. He was due in court on Jan. 14 to face the charges.

Prior to Snot, Strait played bass in a punk band called Lethal Dose. He formed Snot in 1995 with guitarist Mike Doling.

The band, which was hoping to release a second album in late summer 1999, was in the process of recording demos. However, Snot's future with Geffen Records was uncertain, since some of the label's roster is expected to be trimmed in wake of the Universal-PolyGram merger and plans to fold Geffen under the Interscope umbrella.

Strait, who was headed to Los Angeles, was exiting the 101 Freeway between Santa Barbara and Carpenteria when his Ford Tempo struck another vehicle at approximately , resulting in a three-car accident.

"We're devastated," said Sean Henning, who co-manages the band with Nic Adler. "This is a tough one. His family, friends and fans will miss him. Lynn had a lot of fans who grew to love him through his music, and hardcore music has lost a great front man, singer, and songwriter."

Strait is survived by his mother and two sisters, all of whom live in Santa Barbara, and a brother.